Hanamaruki Foods Inc. Thailand Plant, Siam Hanamaruki Co., Ltd.,
obtains food safety certification standards "FSSC 22000" and "BRC" at the same time.
~Accelerating overseas expansion of "Liquid Shio Koji"~
The Thailand plant, Siam Hanamaruki Co., Ltd. (located at WHA Saraburi Industrial Land 60 Moo 4, Tambol Bualoy, Amphur Nongkhae, Saraburi 18140, Thailand) acquired international certification standards for food safety systems; FSSC 22000 on December 22nd, 2020, and "BRC Global Standard for Food Safety" on January 24th, 2021.

With the acquisition of these certifications, we will continue to provide safer and higher quality products to customers all over the world under strict sanitation management.

・Prospects and background for the Thailand plant's acquisition of FSSC 22000 and BRC certification

In order to provide safe and high quality products, we have considered the implementation of food safety systems in our plants to be our top priority. The Ina plant (located at 2701 Nishiminowa, Ina City, Nagano Prefecture) obtained "FSSC 22000" in May 2016, and the Ohtone plant (located at 1216 Yoshida, Oizumi City, Ora District, Gunma Prefecture) obtained "ISO 22000" in May 2017.

The Thailand factory started full-scale shipment in February 2020 as a dedicated factory for "Liquid Shio Koji". Since its launch in 2012, "Liquid Shio Koji" sales have grown steadily in Japan and overseas as it is considered to be highly convenient and versatile as a seasoning and, also, taking advantage of its "innovative" manufacturing patent. The Thailand factory was newly established as a strategic base for global supply into the future.

In the food distribution industry, FSSC is an influential framework as a food safety certification standard, and BRC is a standard required by many companies as a transaction condition for product distribution not only in the United Kingdom but also in other European countries and the United States. Therefore, we believe that the acquisition of this certification will accelerate the future development of "Liquid Shio Koji" in overseas markets. Recently, the number of implementation cases of "Liquid Shio Koji" overseas is growing, and through the certifications obtained we have assembled a system that allows for the manufacture and sales of Hanamaruki products that meet our domestic and international customers' expectations.

With the acquisition of these two certifications, along with the promotion and strengthening of our food safety management system, we aim to expand the sales of "Liquid Shio Koji" all over the world.

・What is "FSSC 22000"?

FSSC 22000 is based on ISO22000 and includes a strengthened food safety management system standard, and approved as one of the benchmark certification schemes for food safety by the non-profit organization "The Global Food Safety Initiative (GFSI)". The scope of this standard includes the international food safety management system standard ISO 22000, ISO/TS 22002-1(or ISO/TS 22002-4) with future details in the ISO 22000's prerequisite program, and includes additional requirements specifically for FSSC.

・What is BRC Global Standard for Food Safety?

The BRC Global Standard for Food Safety is a standard for food safety issued by the British Retail Consortium, a non-profit organization that operates a third-party certification scheme. It is a certification system approved by the "Global Food Safety Initiative (GFSI)". Today, the vast majority of retailers abroad, including the United Kingdom as well as other European countries and the United States, are required to obtain BRC Global Standard certification.

In addition to food safety standards the BRC standard consists of four other types of standards, which include the BRC Global Standard for Consumer Products, BRC/IOP Global Standard for Packaging and Packaging Materials, and BRC Global Standard for Storage and Distribution.

・What is the Global Food Safety Initiative (GFSI)?

The GFSI is a non-profit organization inaugurated in May 2020, managed by The Consumer Goods Forum (TCGF), which focuses on efforts to improve food safety. With the vision of "food safety for all consumers," it is an international network consisting of members of approximately 400 food business operators in 70 countries around the world.

・Detail of the Thailand plant (Siam Hanamaruki Co., Ltd.)

Address: WHA Saraburi Industrial Land 60 Moo 4, Tambol Bualoy, Amphur Nongkhae, Saraburi, 18140, Thailand
Site area: 16,451 square meters
Industry: Liquid Shio Koji manufacture
Safety and Assurance Standards
Ohtone Plant  Awarding of International Standard Certification ISO 22000
As of Thursday May 18th, 2017, The Ohtone plant (located at 1216 Yoshida, Oizumi City, Ora District, Gunma Prefecture) was awarded the ISO 22000 food safety standard certification.

As of last May, the Ina plant of our company (located at 2701 Nishiminowa, Ina City, Nagano Prefecture) was awarded the approval standard FSSC 22000 certification, which is the benchmark established by the Global Food Safety Initiative. Now the Ohtone plant has acquired the ISO 22000 certification in an effort to provide customers with even safer and higher quality products under stricter hygiene standards.

・Perspective and circumstances for Ohtone plant's acquisition of ISO 22000 certification

In order to provide safe, high quality products, our company has hitherto considered the construction of safety systems in the plant to be top priority. We deemed the ISO 22000 certification to be necessary to improve our level of food safety management and to acquire the trust of the international community, and earned the certification accordingly.
As the Ohtone plant is in the midst of reconstruction and expanding its business, we look to reduce the various risks surrounding the provision of food safety in order to acquire the trust of both domestic and foreign consumers.

・What is ISO 22000?

ISO 22000 is a certification created by the fusion of two concepts, ISO 9001 and HACCP (Hazard Analysis and Critical Control Point), to form a system that ensures food safety along the entirety of the food suply chain (every step from production to the time that it reaches the customer).
ISO 22000 combines the four elements below to detail the requirements for food safety management systems.

 1. Interactive communication (ongoing communication between all parties)
 2. System management (assurance via a framework)
 3. Prerequisite system (defining the basic conditions necessary for maintaining safety and hygiene and putting them into practice)
 4. HACCP (assuring food safety via 7 principles and 12 protocols)

・Hanamaruki Foods Inc. Ohtone Plant, Gunma Prefecture, overview

Address: 1216 Yoshida, Oizumi City, Ora District, Gunma Prefecture
Site area: 82,198 square meters Industry: Miso manufacturing
Hanamaruki Foods Inc. Ina Plant, Nagano Prefecture
Has been found to be in accordance with the food safety standards for certification of FSSC 22000
First Acquisition for Nagano Prefecture Miso Manufacturer
~Providing customers with higher quality products through adherence to strict sanitation management~

As of Thursday May 19th, 2016, the Ina plant (located at 2701 Nishiminowa, Ina City, Nagano Prefecture) of the company in question has been found to be in accordance with the food safety standards for certification of FSSC 22000.

・Prospects and circumstances for Ina plant's acquisition of FSSC 22000 certification

In order to provide safe, high quality products, the company specified above has hitherto considered the construction of safety systems in the plant to be top priority. With previous initiatives in mind, the FSSC 22000 certification was deemed necessary and was earned accordingly. Furthermore, because of the clout the FSSC 22000 framework holds in the food distribution industry, by achieving these standards for certification, Hanamaruki Foods Inc. aims to achieve wider global distribution of its products.

・What is FSSC 22000?

FSSC 22000 was developed on FSSC 2200 foundations, and approved as a certification scheme for food safety by the non-profit organization "The Global Food Safety Initiative (GFSI)". The scope of this standard includes food safety management system international standard ISO 22000, and ISO/TS 22002-1(or ISO/TS 22002-4, which details the part of ISO 22000's precondition program.
Four elements, "mutual communication," "system management," "precondition program," and "the HACCP principles," work together to minimize the risk of food related harm, providing customers with a safer product. As it contains approximately 200 specific sanitation management requirements, the acquisition of certification is a difficult goal to achieve.

・What is the Global Food Safety Initiative (GFSI)?

The GFSI is a non-profit organization managed by The Consumer Goods Forum (TCGF), and a global network of over 70 food retail industries. It is a very influential food safety regulation framework in which retailers and suppliers participate, with a scope of over 600,000 stores, approximately 650 companies, and encompassing over 2 trillion dollars in total retail sales.

・Hanamaruki Foods Inc. Ina Plant, Nagano Prefecture, overview

Address: 2701, Nishiminowa, Ina-shi, Nagano Site area: 27,557 square meters (4 story reinforced steel building + 2 story reinforced steel building, completed June 2001) Industry: Miso manufacturing
Ensuring safe raw materials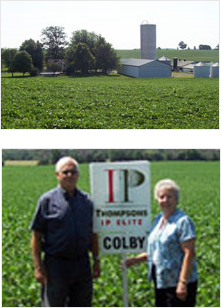 Hanamaruki maintains strong relationships with contracted farmers in order to secure safe raw materials.
To ensure the safety of our soybeans, the heart of the miso making process, Hanamaruki is engaged in activities to raise the awareness of our contracted growers.
We started out contracted grower system in 1994.
With the rise of genetically modified crops worldwide, each year since 2004 we have invited some of the top soybean farmers from Canada to come to Japan, aiming to ensure our continued use of non-genetically modified soybeans.
By bringing the farmers to Japan to see miso making and the market, we provide them with a greater understanding of the need for quality and safety.

IP handling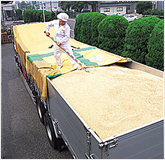 Identity preserved handling (IP handling) involves separating specific crops in the production and distribution stages in order to prevent mixing them with other crops, certifying them for supply to processors. Hanamaruki only uses non-genetically modified soybeans and performs inspections at every stage of the process, including growing and harvesting, acceptance from the grower, selection, shipping and arrival in Japan.

Farm chemical testing
Approximately 800 types of farm chemicals are used around the world. The Japanese Positive List System was enacted in May 29, 2006, to set standard values for all farm chemicals.
Hanamaruki carries out farm chemical residue testing to ensure compliance with the Positive List System.
If farm chemical residues are detected in the food, pre-processing is performed using a minicolumn (photo 1) or the GPC Cleanup System (photo 2) to remove substances that might interfere with the analysis. Pre-processed samples are sent to a gas chromatograph / mass spectrometer (GC/MS) (photo 3) for simultaneous analysis.


Radioactive substance detection system
We also currently undertake our own examination for radioactive substances in farm products (e.g. rice and soybeans) and water obtained in Japan and used in the miso made and sold by our company.
We also conduct monitoring of Japanese-grown vegetables used in our instant miso soups and other such products.
Acceptance testing is performed for radioactive cesium using an NaI scintillation spectrometer.
The detection limit for the equipment used is 50 Bq/kg for Cs 134 and Cs 137 respectively, and our acceptance standard for raw materials is "undetected" (lower than 50Bq/kg).